Requirements:

Visual Studio 2015 C++ Redistributable is required for Service Pack 21
Installation:

With the 2018 upgrade of AmberPOS, there are some new prompts to install Crystal Reports SP21.


After the upgrade, when you open up Amber, this prompt should show up on your screen.
Just follow the instructions on the next window that will show up after  you hit OK.
Hit the Remove All button to uninstall the older version of Crystal Reports
Hitting next here will start removing the older version.
There might be a prompt that there is an running program that is using the .net framework. Hitting ignore here should let you continue the uninstallation process.
This is the window where it will do the whole uninstallation process
Once Crystal Reports has been uninstalled, it will go and start downloading the new version, and install it automatically.
Troubleshooting:
Error 1904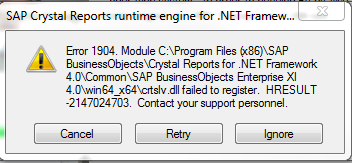 Cause: Missing Visual Studio 2015 C++ Redistributable on the computer.

Solution: Install the package from Microsoft's website: https://www.microsoft.com/en-ca/download/details.aspx?id=48145
Viewing invoices/reports still crashing Amber
Cause: Not uninstalling the older version before installing Service Pack 21.
Solution: Completely uninstall Crystal reports, and installing it again.