This article will guide you on how to setup the
 button to work with your e-mail application on your computer (eg. Microsoft Outlook, Mozilla Thunderbird).
Eg.
Open Default programs in Windows.  Choose the set your default programs so we can enable your e-mail application as the default.
 Select your e-mail application (eg. Microsoft Outlook or Mozilla Thunderbird) and then choose the default for this program.
Choose "Select All" and click "Save".  Your e-mail application should be setup to receive prompts from AmberPOS for generating E-mails.
 Go back to AmberPOS and in your Printer and Local Settings set your "Email Program".
As of March 2018, our four options are:
Microsoft Outlook - This can be used for any Microsoft Outlook version. 'Microsoft Outlook (Late Binding) is preferable unless you are using Microsoft 2016.
Microsoft Outlook (Late Binding) - Use this for Microsoft Outlook (doesn't work with Outlook 2016).
Windows Default(MAPI) - This will use what you have set as your default Email app in Windows. Use this method for Thunderbird.
MailTo Protocol - Another option for communicating with Outlook/Thunderbird. This option is not preferable, use this if you are having issues with another method.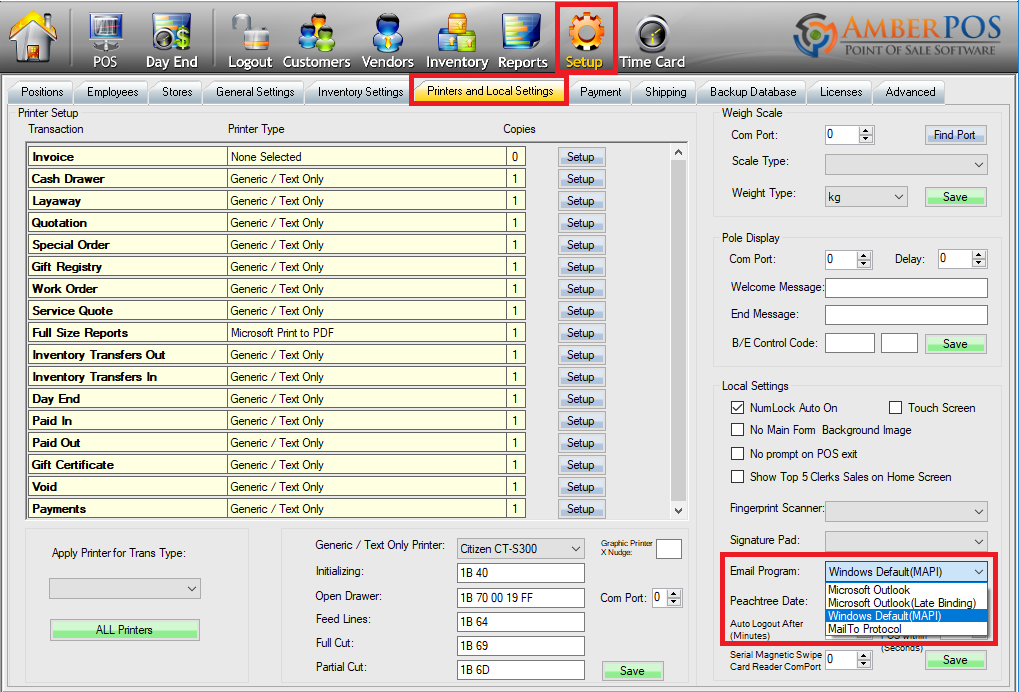 **NOTE: Try Restarting the computer if it doesn't work initially.  Windows might require you to do this in-order to allow the application to work as a default for the protocols you adjusted for it.**
You should see the an e-mail like the example below when you click on the
 button.