WINDOWS MOBILE DEVICE CENTER WON'T OPEN
Option 1 Fix
This has started happening after a Windows update since at least July 5th, 2017.
You have to go to Services.


Look for the "Windows Mobile-2003-based device connectivity" service, and double click on it.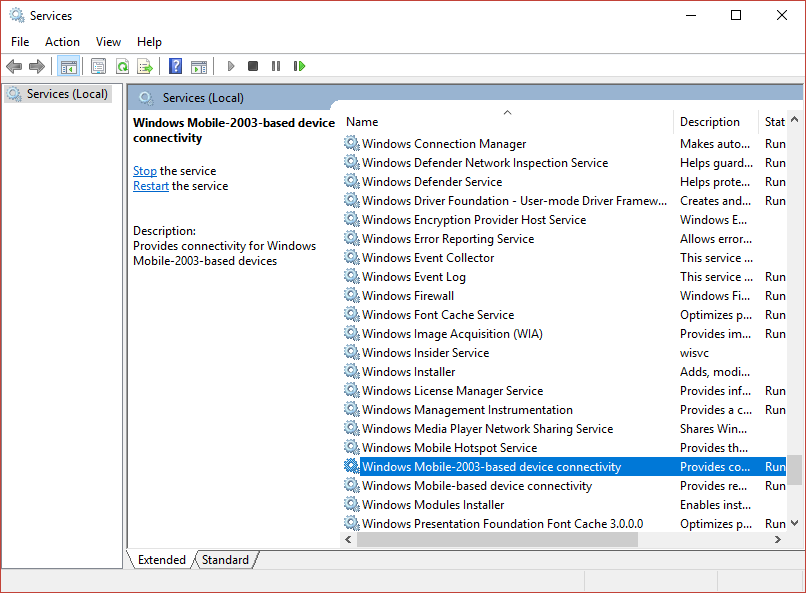 Go to the Log On tab, and make sure the Local System account is selected, and the Checkbox is checked.
Apply the changes, and make sure to start the service afterwards.

Option 2
If Mobile Device Center still does not load, try the options below.
Problem 1: "This app isn't working correctly"
Solution 1: In Programs and Features, uninstall (in this order) Windows Mobile Device Center Driver Update and Windows Mobile Device Center, then reinstall (see below for installer downloads).
Problem 2: WMDC hangs at splash screen
Solution 2a: In the Services applet (services.msc) for both of the following...
Windows Mobile-2003-based device connectivity
Windows mobile-based device connectivity
... double-click on each service. On the Log On tab, set it to log on as Local System Account (don't check the box "Allow service to interact with desktop), then OK. When both are changed, start the services.
In Task Manager, end task on wmdc.exe and/or wmdcBase.exe. Windows Mobile Device Center should now run correctly.
Solution 2b: Start a Command Prompt as Administrator, then run these commands:
REG ADD HKLM\SYSTEM\CurrentControlSet\Services\RapiMgr /v SvcHostSplitDisable /t REG_DWORD /d 1 /f
REG ADD HKLM\SYSTEM\CurrentControlSet\Services\WcesComm /v SvcHostSplitDisable /t REG_DWORD /d 1 /f
Option 3
When you get your new Honeywell Dolphin 6500 scanner, it may not have Power Tools installed which is necessary to utilize the laser scanner via Scan Wedge. There are a couple of steps to follow to get it working properly.
1. In some cases, the scanner just needs to undergo a hard (cold) reset. Instructions can be found here. This will initialize any auto installation files which should include your power tools. 
2. If the above solution does not work and you still do not have power tools installed, go to the Honeywell website and navigate to the Dolphin 6500 to download the "Honeywell PowerTools and Demo with SP for 6100/6500 WinCE 5.0 Device Image r112" or download the file here. Unzip the file to a location on your computer.  
3. Ensure your device is plugged into your computer. Using the Windows Mobile Device Center select Connect without setting up your device.
4. Mouse over File Management and click on Browse the contents of your device.
5. This will open an explorer window of your device. Double click on the drive.
6. Navigate to the Honeywell folder and copy the files you unzipped earlier into this folder. 
7. Now go back to the first step and hard boot your device. This will run the auto install files you just added which includes your power tools. 
Click the link below for step by step on launching the scan wedge for the Dolphin 6100/6500 Scanners.
https://amberpos.zendesk.com/hc/en-us/articles/215972843